ACOUSTIC FLOORING
SubFloor's effective acoustic floor

The basic idea is simple! With SubFloor acoustic flooring – tailored and constructed precisely to meet your requirements and needs – the noise level of footfalls from another room or another floor of the building is reduced. Sounds from telephone calls, TV and radio can also be muted when the right choice of flooring improves airborne sound insulation.
Requirements and needs vary in apartment buildings, offices, nursery schools, schools, or buildings with other activities, depending on how sounds behave in rooms and with different surfaces. SubFloor acoustic flooring was developed in conjunction with leading experts and means that the screws are used together with a unique acoustic foot. The foot ensures footfall noise reduction of up to 28 dB without compromising stability.
However, to ensure that the requirements of the building are met, it is important to take into account all criteria – the construction of the floor in interaction with the building's frame and floors. The balancing act concerns meeting requirements in every instance. If a floor gives too much, it will feel uncomfortably soft to walk on. We work with experts in materials to ensure that the requirements of the sound environment are exceeded by a good margin.
Three different acoustic feet
SubFloor acoustic feet are designed to meet the high demands of step and airborne sound insulation. Polyamide and TPE materials with their different properties combined with the chosen joist type ensure good indoor acoustics for any given project. There are now three different variants of acoustic feet. Flexible build height with wood or steel battens depending on the requirements and conditions of the project will determine the type of acoustic foot.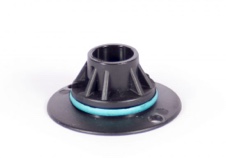 Choose the right acoustic foot
Contact us for early consultation and we will help you with the right solution.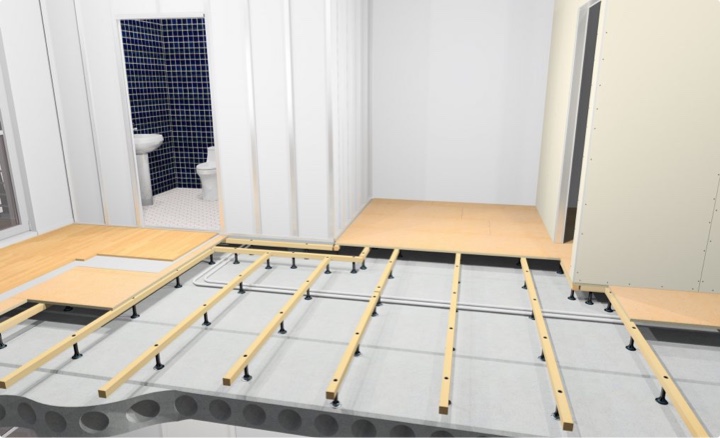 Examples of constructions

Wooden batten, acoustic foot 12 mm, HDF

Steel batten, acoustic foot 12 mm, HDF

Wooden batten, acoustic foot 25 mm, KL-wood
Acoustic foot 12 mm

Wooden batten with acoustic foot

Steel batten with acoustic foot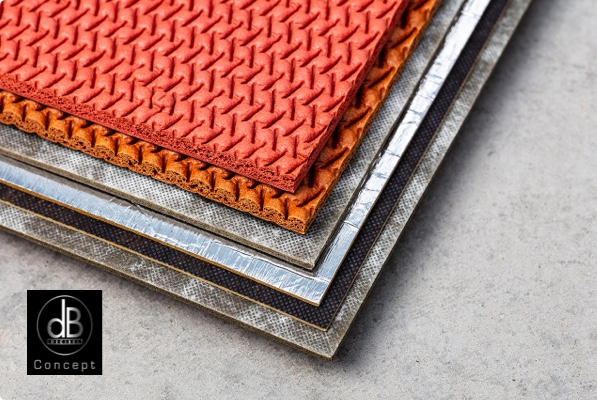 Decibel Concept – akustisk matte
Decibel Concept er akustiske matter som kan kombineres med flere typer gulvmateriale eller integreres i ulike bjelkelagskonstruksjoner, enten direkte under overflaten eller støpt inn i strukturen
Sound School
We've collected facts that may be useful for anyone interested in comfortable sound environments and acoustic reduction
Floor design for quieter houses
How to reduce sound levels and create a good sound environment right from the start
How sounds propagate
Different sounds spread between different rooms in different ways. We know what you should keep in mind and how to reduce sounds with a good floor
Tips & Solutions
Each project presents its own challenges with different circumstances and conditions. We've collected tips for solutions
Project – With acoustic flooring
Here we show a selection of different projects with SubFloor acoustic floors.
Intresserad? Kontakta oss!
Vi svarar gärna på dina frågor eller hjälper dig med teknisk support. Ring 0500-46 98 60 eller använd formuläret så kontaktar vi dig så snart vi kan. Fler uppgifter och kontaktpersoner hittar du på kontakta oss.
Återförsäljare
Privatpersoner och byggserviceföretag köper enklast våra produkter genom våra återförsäöjare. Hitta återförsäljare.