VENTILATED FLOORING
From an unhealthy to a healthy house with ventilated flooring

SubFloor's batten-based design creates an air gap against the floor. The design provides very good ventilation opportunities in older houses as well as newly constructed ones. Many neighbourhoods in our cities feature buildings erected in the 1960s/1970s
The need for new housing and municipal services was enormous. New, faster and unproven methods of construction were introduced without knowledge of the long-term consequences. We can now see that detached and terraced houses, nursery schools and schools became experiments when concrete slabs were cast directly on the ground without drainage or insulation. After a while, some of them began to experience problems with damp, mould and bad smells, which created an unhealthy indoor environment.
Ventilated flooring from SubFloor helps make a house healthy again. Floors are often replaced for preventative purposes, for example prior to a sale or when it's time to renovate other parts of the house. Whatever the purpose, it is a sound investment for the future.
Take control of air flows
With the space that SubFloor creates between a concrete floor and the batten, the intelligent solution of air intake and exhaust venting creates negative pressure under the floor. Airflow is distributed using cleverly located air ducts.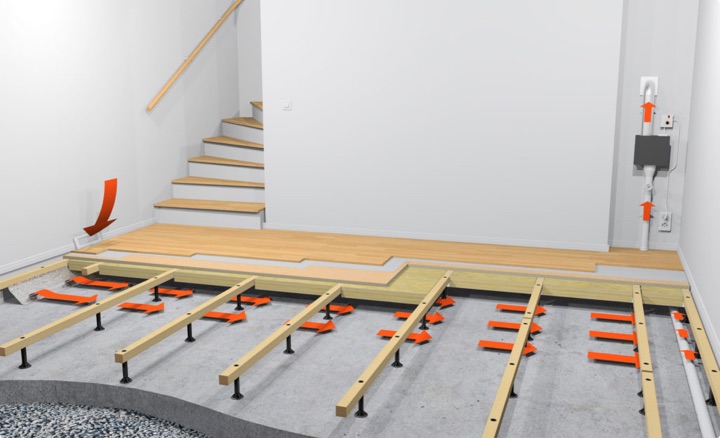 The structure allows moisture, odours and emissions that pollute indoor air to be ducted away. The same solution may also have an effect when dealing with high radon levels in a building. The principle of SubFloor floor ventilation can also be applied to dampproof basement walls.
Faster recovery from water damage
More and more people choose a mechanically vented floor in consultation with their insurance company after water damage has occurred for example. This will make it possible to move back into the house shortly after decontamination and cleaning, without having to wait until the structure is fully dry. Good ventilation created continues to dry the floor even after a new floor has been laid and the house is habitable again.
Select SubFloor Floor Ventilation when:
There is rising damp
There are odours/emissions from mould damage or moisture-damaged filler/glue
There is radon radiation from the ground
Optivent – Ventilationsgolv
Optivent Golvsystem är en ljuddämpande fuktspärrmatta som kan läggas under nästan vilken golvtyp som helst. Systemet ger det effektivaste skyddet mot fukt och lukt från betongplattor, samtidigt som det är ergonomiskt eftersom det ger golvet en möjlighet att svikta.
Project – With ventilated flooring
Here we show a selection of different projects with SubFloor battened flooring. More projects will be added in the future.
Intresserad? Kontakta oss!
Vi svarar gärna på dina frågor eller hjälper dig med teknisk support. Ring 0500-46 98 60 eller använd formuläret så kontaktar vi dig så snart vi kan. Fler uppgifter och kontaktpersoner hittar du på kontaktsidan.
Återförsäljare
Privatpersoner och byggserviceföretag köper enklast våra produkter genom någon av våra återförsäljare. Hitta återförsäljare.