OUTDOOR FLOORING
Out is the new in! Floors for terraces, balconies, etc.

We want things to be comfortable and stylish at the same time, even on our terraces, balconies and verandas! SubFloor's outdoor flooring is the perfect choice for new, stylish battened floors outdoors.
SubFloor is used where some type of substrate is already available – for example, garden tiles, asphalt, concrete slabs, board or tin roof. Unevenness and any previous wear disappear. Whatever the circumstances, the feel of SubFloor's outdoor flooring will be completely new and stable.
The pressure-impregnated battens are already fully prepared with pre-drilled holes and pre-laid threaded plastic screws that resist UV radiation. That means quicker and easier laying.
Användningsområden
Terraces
Porches
Balconies
Wooden decks
Outdoor areas
Outdoor restaurants
Underlag
Hardboard
Concrete
Sheet metal
Asphalt
Stone tiles
Stone/rock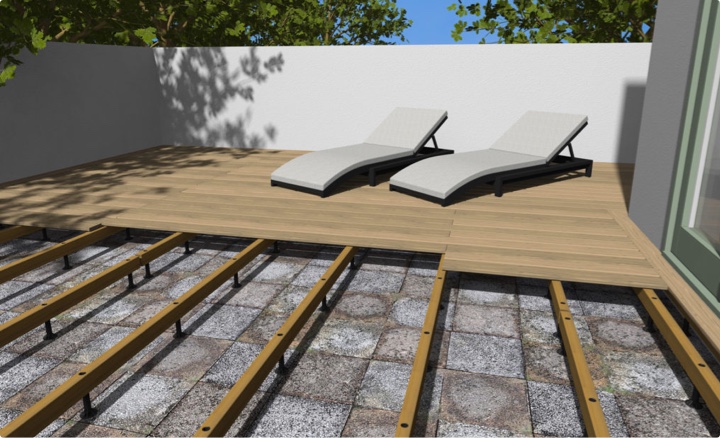 Project – With outdoor flooring
Here we show a selection of different projects with SubFloor outdoor flooring
Intresserad? Kontakta oss!
Vi svarar gärna på dina frågor eller hjälper dig med teknisk support. Ring 0500-46 98 60 eller använd formuläret så kontaktar vi dig så snart vi kan. Fler uppgifter och kontaktpersoner hittar du på kontakta oss.
Återförsäljare
Privatpersoner och byggserviceföretag köper enklast våra produkter genom våra återförsäöjare. Hitta återförsäljare.