The SubFloor Screw
SubFloor is the new generation of functional flooring from Prästängen Byggsystem During product development we have built on all the experience and knowledge that 50 years of dedication to flooring and floor-related products have given us. We have scrutinised every detail regarding the design and added new smart solutions for design as well as material selection.
Much of the development behind SubFloor is based on this newly developed screw. Everything from the new higher load-resistant material to the flexibility of the accessories gives us a screw that meets the demands and opportunities of the future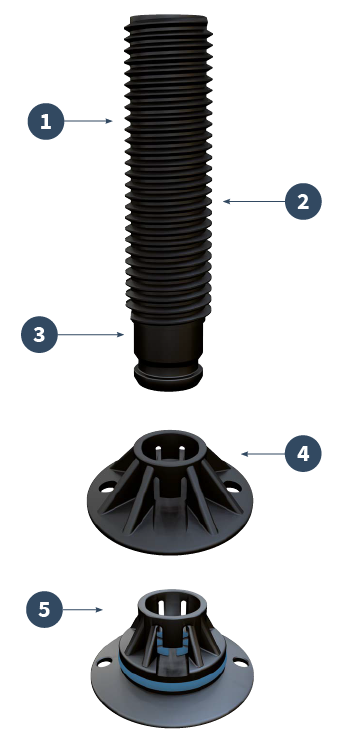 1. The plastic of the screw is made of extremely durable material which gives the entire construction very good load resistance.
2. The same screw is used for all structures, both inside and outside.
3. The smart snap feature at the bottom of the screw makes it easy to attach the supporting foot.
4. Supporting foot with multiple mounting options for quick mounting. Glue, drill or use nail gun.
5. The acoustic foot is designed to minimise the transmission of vibrations.
Attachment – Choose from 4 different methods
Glued with screw foot
Apply 3-5 g between concrete and screw foot.
Allow to cure before height adjustment (the glue is fully cured after 24 h).
Nail with screw foot
Shoot the nail into the screw foot base.
Ensure fastening before height adjustment.
Wood screw
Fasten with wood screws to the joists
Concrete plug
Drill at least 45 mm with a 6 mm drill.
Remove the drill.
Insert a plug and tap firmly in place.